Outdoor adventure means a lot of bulky stuff with some gadgets. The smartphone will top the list of gadgets, and then the power bank. However, carrying all these things in outdoor activities and enjoying leisure time is not convenient. We wish a completely hands-free experience with all essential gadgets.
RockyBelt has come to your rescue. It is the world's first wearable and modular power bank tailored with space for all the tools and gadgets you would need for adventure. It may be flashlights, chargers, guitar-playing kits, survival kits, and other add-ons.
This belt is practical and lightweight, weighing 1.30 lbs only. RockyBelt enables you to customize the belt's functions as per your needs.
This belt devised a 28000mAh safe, compact, and waterproof rechargeable battery. Also, it includes a wall charger and three retractable charging cables as
1. Type-C
2. Micro USB
3. iPhone
Simply, it can charge just any device on the go.
It houses built-in Bluetooth Speakers to let you listen to music or podcasts out on an adventure. Also, with these speakers, you are free to attend your hands-free phone calls.
With this belt, you no longer need to carry an additional torch to if the night is supposed to fall. Since, RockyBelt equipped with a powerful built-in dimmable, adjustable and hands-free LED flashlights.
It houses an exceptional feature, its guitar-friendly design. It is something that could be beyond imagination playing guitar anywhere. RockyBelt Pro is equipped with Powerful AUX/Bluetooth Speakers and a Premium Built-In Amplifier to rock the floor anywhere. Forget to carry heavy amplifier, find a power outlet and else.
In addition, RockyBelt has add-ons like GPS Tracking module and Laser Beam Signal. GPS tracker will help you find your lost companion and could be an outdoor survival tool. Likewise, Laser Beam Signal allows you to use visible laser signals to help people find you if you stray away.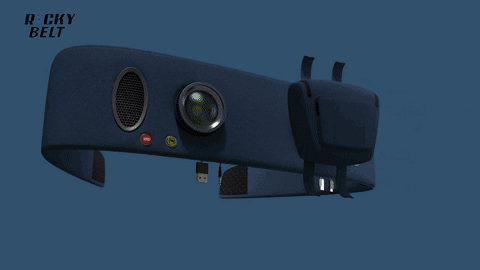 RockyBelt has a waterproof multi-purpose pouch module to keep your important belongings.
With RockyBelt, you will stand out smarter. Yes, because it has an AC 110/220V Outlet module to connect devices, such as DSLR Cameras, Drones, or other gadgets. You can choose this alternative power source when those three retractable charging cables are incompatible.
It is devised with an Insect Repellent button to produce high-frequency ultrasonic to get rid of insects bothering you.
You will now believe why they called it a perfect tool to carry outdoor. For those who work outdoors, such as farmers, gardeners, landscape planners, roofing professionals, and even rescue workers, it is an excellent tool.
Particularly, a rescue worker is adroit with its hands-free supporting toolkit for outdoor rescue operations.