ZeroZero Robotics introduced the next generation of autonomous drones with an unprecedented A.I. technology. They named this project 'Hover 2'. It flies itself and captures stunning shots from every angle.
Hover 2 can fly for up to 23 minutes. Its integrated features like 4K video, 1/2.3in CMOS sensor, 2-axis gimbal and digital stabilization (EIS) and one-handed control.
Also, the amazing up to 5 km of control range, 360-degree obstacle avoidance, and its sleek, portable, foldable design sets it apart. Its internal storage capacity is 8 GB whereas external storage is up to 128 GB.
While designing this gadget, ease and usability were the centers of their creativity. Which enacted in the form of Hover 2, it captures your every precious moment from every angle and magnificently.
Exceptionally crafted Hover 2 has provision to select amongst four preset shots with AutoFrame. Four shots to select between are Waist-Up, Full-body, Backdrop, and Birds-eye. Choose your shot, Hover 2 will fly into position, frame, and capture the shot with the tap of a button.
Similarly, Omni-Follow keeps you in the frame from any angle. Unlike traditional follow modes Hover 2 can follow from the front, back, side, or switch between these three in the same shot.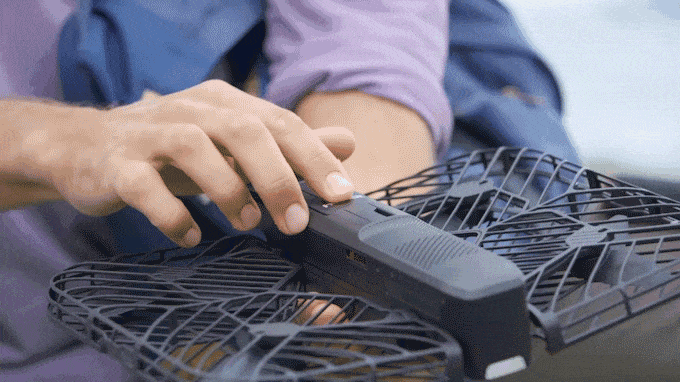 In this, Hover 2's proprietary Optical Radar is a rotating stereo sensor to give the complete perception of depth. It helps to avoid obstacles while the main camera is focusing on you. Whereas Pivot follows keeps the Hover 2 stationary when the camera tracks your movements and set you in the center of the frame.
Inspiring by the classic film techniques, TrackShot flight paths shoot video from all the angles even when you are moving. It will navigate around you to capture every moment.
Likewise, Hover 2's in-app editing suite offers a selection of Cinematic Themes with customized soundtracks and filters. You can select the theme and transform your footage into a short clip and can share it promptly with your friends.
It houses an advanced obstacle avoidance algorithms powered by Qualcomm's flagship Snapdragon processor. Together with SLAM 3D mapping, Visual Inertial Odometry (VIO), and path planning features, Hover 2 can navigate with 360º obstacle avoidance. During this course, it bypasses obstacles while tracking a target.
Hover 2 houses the computer vision system enables to track a target regardless of the obstructions and intelligently adjust its tracking strategy. The Hover 2 is crafted with enclosed propellers, onboard GPS, easy tracking and intelligent obstacle avoidance technology enable you to bring your drone back to you. It is compliant with GPS and GLONASS.
Its compact, foldable design and ultra-portability make it easily pliable.
"Its design is based on the award-winning design of Hover Camera Passport, recipient of the Red Dot and iF design awards. We believe you shouldn't have to choose between safety, portability, and style."
In addition to this, you can capture stunning aerial footage in BlastOff mode. Whereas it can be controlled from up to 5km (3mi) away when paired with the BlastOff controller. "To attach the aerial accessories you just need to slide off the carbon fiber enclosure and replace it with the propeller guards and landing gear."
The Palm Pilot auto-pairs with the Hover 2 enables one-handed easy control. Also, gives you shortcuts to your favorite flight and capture features. Its maximum control distance is 100m. An LCD screen displays first-person POV, letting you see what the drone sees.
Technical Specifications of Camera at a glance
The ergonomically designed Hover 2 enable you to capture the world around your in dazzling detail. It would be perfect for outdoor activities and enable you to use your device for other uses.